Description
This ternary form + coda flute solo with piano accompaniment will take you on a challenging journey, especially the coda at bar 45 with 6 flats in the key signature, so start practicing your Eb harmonic minor scale. The coda is full of energy and excitement as we approach the end of our journey, with a sense of happiness in returning to our home and family.
The piano accompaniment is really a solo in its own right. I always try to write piano accompaniments that have as much melodic and rhythmical interest as possible, so that the pianist is an equal partner on the journey.
Even though the Coda is more spectacular in its musical impact, Section B (beginning bar 21) in D minor is really the centrepiece of the work – it speaks to our human resilience and perseverance when our journey still has a long way to go. The syncopated piano accompaniment makes it challenging for the flute player, but when it all connects the darker minor key draws out strong musical emotions which the flute player can work with.
Flute solo work with piano accompaniment is mostly about the flute player learning to listen very carefully to the ensemble sound, to facilitate improvement in one's intonation and rhythmical togetherness, and perhaps most importantly, the dynamic and tonal balance within the ensemble effect.
Always practice in phrases when learning a new and difficult piece. Shaping phrases well is no easy task for the flute player, who must consider many technical elements, such as articulations, breath support and when to breath, tonguing techniques, vibrato and the tapering of phrase ends on the longer notes requiring the lower lip position to push forward a little to prevent any flatness in the intonation as less air is pushed.
The downloadable zip files for these flute solos with piano accompaniment, contain a pdf master score for the solo flute and the piano part, an individual flute solo pdf extract, an mp3 audio of the master score (flute & piano), as well as an mp3 flute solo backing track with only the piano accompaniment to assist practice.
sample audio
sample sheet music
Level of Difficulty: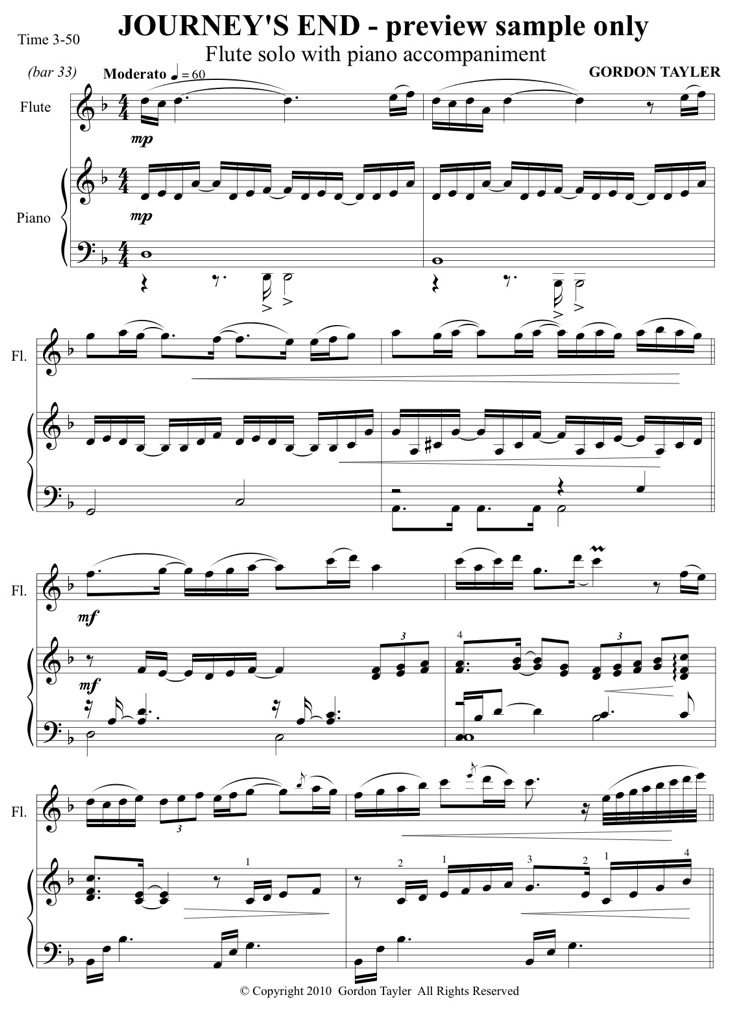 0